[ Finland ] [ Ukraine ] [ Comments on Survey ]
In our exchange project with students in the Ukraine, we shared information via a student generated survey that was administered to 5th and 6th graders in Oceanport, NJ and in Kiev, Ukraine, under the tutelage of Mrs. Leana Usenko. Eighth grade students in Ms. Fosterís computer class had established a relationship with a group of students at the Kyiv Lyceum. After exchanging many letters through e-mail, studying about life in Ukraine, reading Ukrainian literature, visiting internet sites, reading articles in The Ukrainian Weekly,the class was finally ready to create a survey.
The results of the survey included the following information:
There was only a 7% difference between ownership of homes, with the US coming out on top.
There is a 50% difference in car ownership, with many more cars in the US.
Only 10% more of Americans own computers over Kyiv, Ukrainians.
Sixteen percent more of Ukrainians work full time as comparison to the Americans.
In Ukraine 36% of the kids who took the survey have one parent working full time, and the other one doing household work. Americans however, only have 26% working like that.
More Americans got the right answer identifying Russia as the largest country with 1%, whereas Ukraine had 42%.
Americans students were more optimistic in answering if people would live on Earth and on other planets. Fifty one percent of the Americans were optimistic, while 40% of the Ukrainians were.
Most Ukrainians( %) think that people donít care about the environment while 21% of the our students think people do care about the environment.
Sixty percent of the American kids answered that they like to read, while in Ukraine 83% of the kids like to read.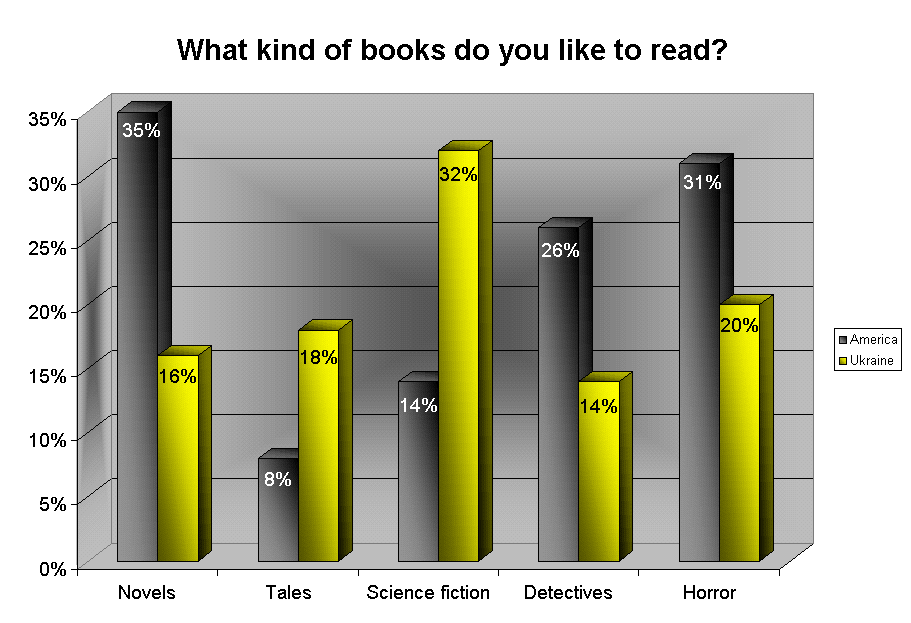 In conclusion, these were some of the facts that we found out through the survey. This was a great learning experience for both the Ukrainian students and the American students.